Toyota Auris has liter 30 km is superior fuel efficiency.
Dynamic and sporty body designs are favored by men of a wide range of age groups.
The most popular color of Auris is White Pearl Crystal Shine, but citrus mica metallic is also preferred by users who place importance on personality.
The highest grade 120T is equipped with a 1.2L straight 4 downsizing turbo with a maximum output of 116 ps and a maximum torque of 185 N · m, and achieves comfortable driving.
Toyota safety sense C which further enhances safety is also installed in the advanced grade.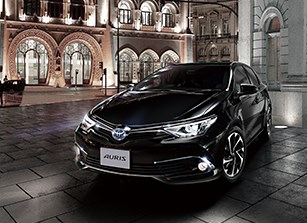 Such Auris of Toyota has seven colors including "White Pearl Crystal Shine", "Silver Metallic", "Black Mica", "Red Mica Metallic", "Orange Metallic", "Citrus Mica Metallic" and "Blue Metallic".
Toyota's Auris has different parts according to the grade, and it enhances personality more.
Its dynamic design recognized in Europe attracts viewers.

Auto auction in Japan | SUN TRADE