Toyota Corolla Fielder which adopted the characteristic lower grill and low center of gravity front bumper is a popular car mainly from middle-aged and male men.
Toyota Corolla Fielder's popular body color is Super White Ⅱ, and modern black mica is also drawing attention.
Different sensors are equipped with laser radar and camera in all models, and "Toyota Safety sense C" which is a safe driving support system realizing superior recognition performance and reliability is adopted.
This is the first time for Corolla Fielder.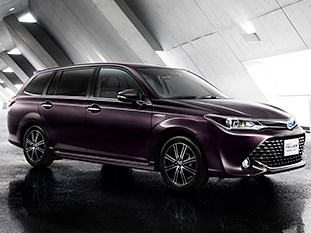 Toyota Corolla Fielder's color variations include "Super White Ⅱ", "White Pearl Crystal Shine", "Silver Metallic", "Black Mica", "Super Red V", "Cool Bordeaux Glass Flake", "Orange Metallic", "Light Blue Metallic", "Blue Metallic", etc. It is a lineup.
The comfort of the Corolla Fielder is unique to Toyota vehicles.
Furthermore, by adopting the new 1.5 liter engine, and making the hybrid system highly efficient, we made it possible to run 33.8 km per liter.

Auto auction in Japan | SUN TRADE